The Conference Venue
Campus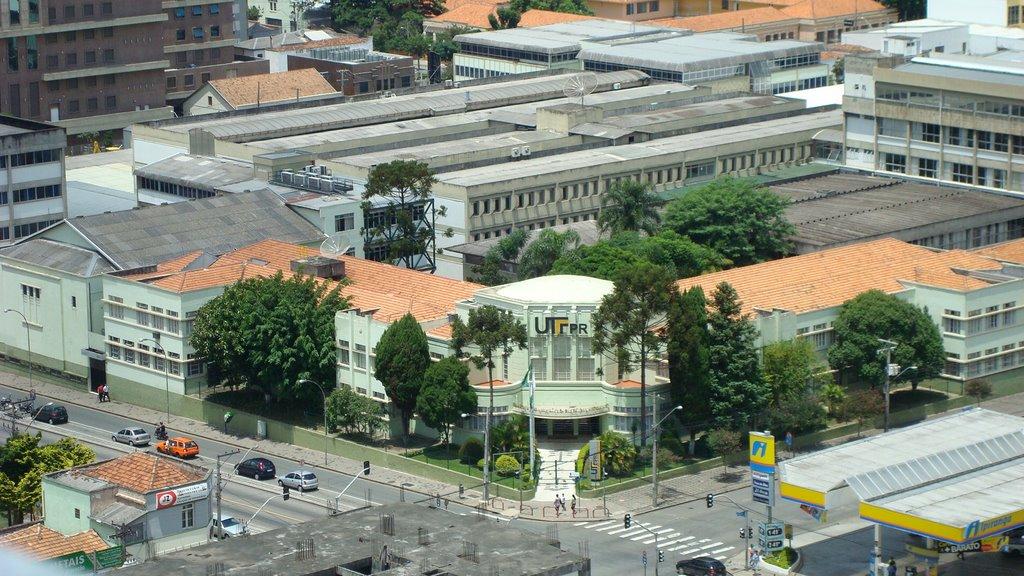 Photo by Fernando Luiz Scherer
The conference will be held inside the Central Campus of UTFPR (Português).
UTFPR is a free public University, run by the Brazilian Federal Government. The campus is compact, occupying a single city block, so all of the on-campus venues will be near each other.
Centrally located in Curitiba, the campus is close to a good number of restaurants, hotels, public transport, and shopping (including mall over the road).
Address
Av. Sete de Setembro, 3165
Rebouças
Curitiba
PR 80.230-901
Wikipedia
Maps
Inside the Campus
Rooms
Auditorium
Miniauditorium
BoF roooms
Childcare
Front Desk
Noisy hacklab
Quiet hacklab
Photos and videos
Getting to Curitiba
Most international flights to Brazil arrive in either São Paulo or Rio de Janeiro, connecting to Curitiba on a local airline such as Gol, Latam, or Azul. You should be able to book a ticket directly to Curitiba (CWB), connecting through either of these cities.
By plane from São Paulo
The travel time between São Paulo – Guarulhos International Airport (GRU) and Curitiba's Afonso Pena International Airport (CWB) is 1h05min.
By bus from São Paulo
From São Paulo to Curitiba it is 6 hours by bus. It is safe, comfortable, and convenient. Several companies operate on this route, including Viação Cometa, and Kaissara. Some of these services are sleeper buses.
Getting to the venue from the Airport
Curitiba "International Airport Afonso Pena" (CWB) is located 18km from the city centre, in São José dos Pinhais.
It takes about an hour to get from the airport to the venue by public transport (bus), or 20 minutes by taxi.
Public Transit (bus)
This is the cheapest option (R$ 4.25, about 1.20 USD).
The airport bus (line E32, grey), runs from the Airport to the Terminal Boqueirão.
Transfer (for free) onto the Bi-articulado Boqueirão to the UTFPR bus station, outside the campus.
The entrance is on Av. Sete de Setembro, just around the corner.
Taxi
The cost is around R$ 70 (about 17 USD). There is only one company and the cars are blue and white.
Coach (recommended option)
The cost is R$ 15 (about 4 USD) for one way, paying with cash. Promotions:
R$ 16 round trip, paying with credit card.
R$ 10 for one way, paying with credit card.
It is a good idea you say to the driver you want to get off at the Shopping Estação bus stop. The campus is one block west of the shopping centre.
More information: Airport Executive
App
You can use Uber or 99POP (99 works with particular car or taxi).
Health
Vaccination
Your home country may recommend vaccination before travelling to Brazil. For example the United States' and Canada's advice are to vaccinate against:
Hepatitis A
Typhoid
Measles
There is an ongoing yellow fever outbreak in Brazil, including Paraná, where DebConf19 will be held. Map of affected areas. This mostly affects rural areas, Curitiba itself (and the majority of urban areas in Brazil) are not high risk areas for Yellow Fever.
Brazil does not require a vaccination, but the infection is life threatening when you get bitten by a mosquito carrying the virus. Your home country may not let you return from yellow fever epidemic areas, such as Brazil, without a vaccination.
We therefore recommend to get a vaccination at least 10 days before travelling to Brazil. There is a global shortage of the vaccine, so you may need to schedule this far in advance.