Visiting Curitiba
Curitiba is a cosmopolitan city that receives people from all over the country. It has a small but vibrant technology scene and a strong culture of innovation. The city has a number of tourist attractions, both inside the city limits and around it. There is also a strong cultural scene with attractions for all tastes including theater, movies, music, and comedy.
Southern Brazil has a strong history of immigration during the last couple of centuries, and Curitiba has significant immigrant communities, including German, Italian, Japanese, Polish, Ukrainian, Syrian and Lebanese. This plurality is reflected in a broad range of typical food available, as well as corresponding cultural landmarks of these populations which are an integral part of the city culture.
Geographic location
Curitiba is the capital of Paraná State. It is located 100km inland, between São Paulo and Porto Alegre, where DebConf 4 took place.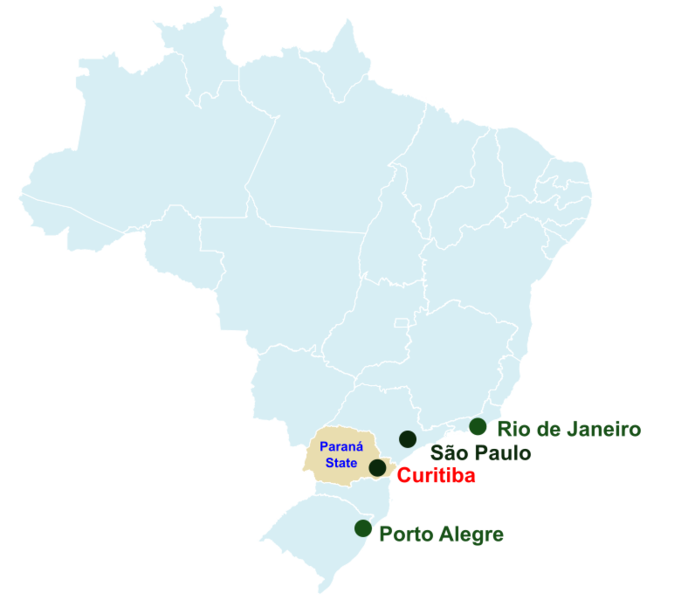 Getting to Curitiba
See: the conference venue page for details.
Weather
July is winter in Brazil. As the weather is drier than summer, it is unlikely to rain, and even less likely to snow.
Curitiba is known to be the "coldest capital" in Brazil, so the weather during DebConf will definitely not be hot.
According to the Clima Tempo, the average July temperature over the last 30 years is:
| | | |
| --- | --- | --- |
| Avg. Minimum | 8 °C | 46.4 °F |
| Avg. Maximum | 20 °C | 68 °F |
| Avg. Rainfall | 99 mm | 4 inches |
Transport
Public transport
Curitiba has a world-renowned public transportation system, using buses rather than trains.

The system operates similarly to metro/subway systems, with buses running between enclosed stations. A network of dedicated roads for large, bi-articulated buses runs along major arteries of the city. Local routes are served by smaller buses, on regular roads.
Fares (4.25 BRL, about 1 USD) are paid on entering the station, and transfers without exiting the station are free.
Timetables and live data are available on Google Maps, so you can use that to plan your trips inside the city. We are not aware of any Free alternatives with this data.
All buses accept the cartão transporte (bus card), which you can buy for 3 BRL from these places. Most buses also accept cash, except for the small yellow bus, which only accepts the cartão transporte.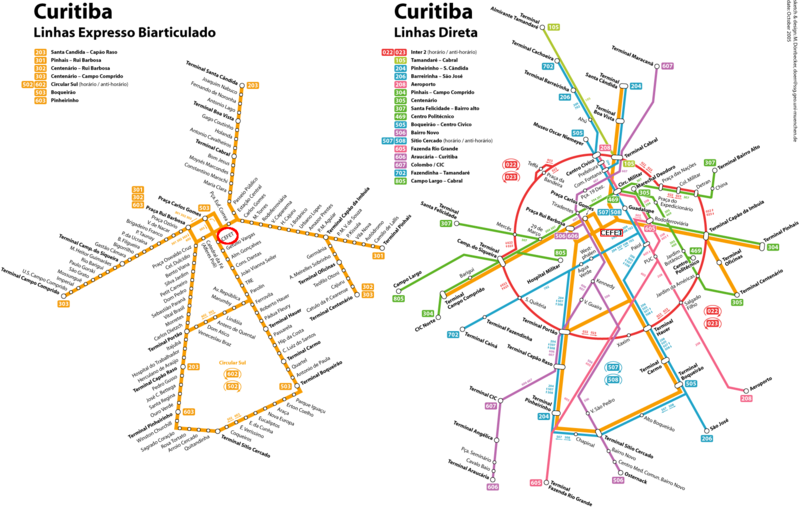 Public transport map — complete
Car rental
You can rent a car starting at ~ R$100 (~USD 33) per day.
See e.g. rentcars.com
Bicycle rental
You can rent a bike starting at ~ R$ 10 per hour and R$ 50 per day.
See e.g. KuritBike and Bicicletaria Cultural.
Taxi
Curitiba has plenty of taxis and it's usually easy to get one. If you are not close to a taxi stop the best way to get a taxi is by using 99 taxis smartphone app (obviously non-free, available for Android and iOS), which works like Uber but for regular taxis.
Uber and 99POP
Uber and 99POP (a local app) work in Curitiba.
Fun and Free time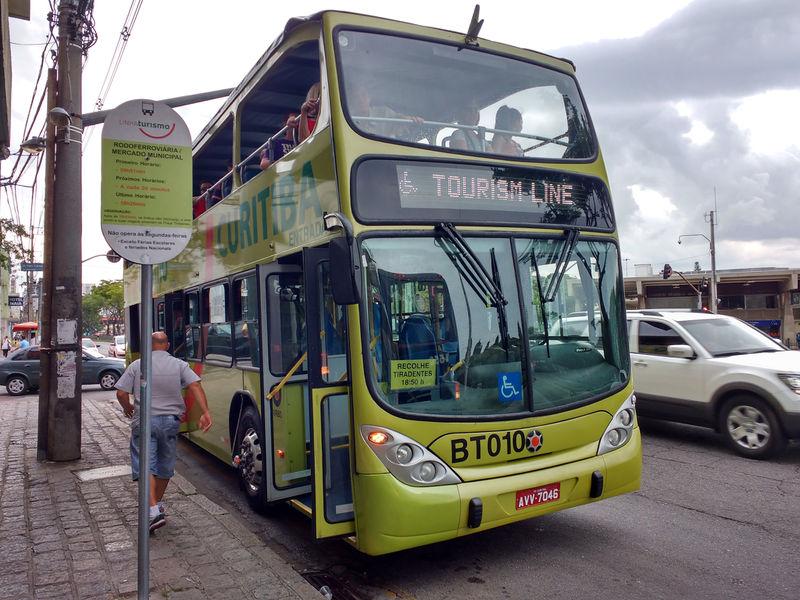 Video from Largo da Ordem handicraft fair
Tourist information
Places to visit
CNN has selected 3 sights from here among the 20 most beautiful in Brazil!
Parks / Gardens
Museums (Museus)
Historical sector
Others
Municipal Market
The Curitiba Municipal Market is a traditional place to buy fruits, vegetables, desserts, coffees, beers, meat, so on.
It was created in 1958 and you can find cheeses, wines, seasoning and sauces, in particular pepper sauce. In Brazil craft candies are very traditional, you can find guava preserve, pumpkin preserve, milk caramel 'dulce de leche', fig preserve, peach preserve, so on.
The craft candies area usually made of sugar, milk or water and the fresh fruit. The Mercado Municipal de Curitiba is close to the UTFPR.
Some examples what you can find there:
Beer
Yes, my friends, we have many microbreweries in Curitiba! Some of them:
Google My Maps of microbreweries
Pubs:
Tourism in Brazil
See also the DebConf19 FAQ.